At Danimose we want you to feel empowered and unique through authentic designs; your wearable stories. 
We know you care as much as we do about craftsmanship and high quality, ethically-sourced materials. 
These are practices and values we use in all we do.
Let's create together.
ENGAGEMENT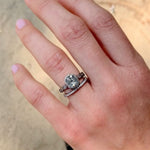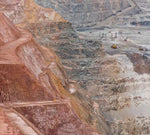 GOLD sustainability
At Danimose we only use fairly traded gold or recycle gold. Our precious metal supplier is part of the Responsible Jewellery Council of South Africa. To be part of it companies need to have in place codes of business ethics, human rights and social and environmental impact.
Customers love
"I had two pretty different styles in mind but somehow Dani married the two in the most beautiful way! She also suggested a gorgeous stone (Namibian tourmaline) that I had never heard of before but is absolutely perfect. My earrings are stunning — Dani does amazing work!"

-Kenyon Lang

Dani made both my engagement and wedding ring. My husband collaborated with Dani on the engagement ring, and I worked with her on the wedding ring. Dani is so so easy to work with: She is thoughtful, attentive, and incredibly creative. She was able to turn my half ideas into something that is a true reflection of my relationship with my husband. I absolutely adore my rings and wear them with pride!

-Robin Willis

"Words totally escape me when trying to say what an amazing designer Dani is. She took very sentimental old items and turned them into magical memories!! The love, dedication and passion she puts into her work leaves one speechless!! Thank you Dani for my breathtaking pieces!"

-Lucille Steinbrucker

"Danimose you are the best! Thank you for capture my memories trough each unique piece!! Wearing "something blue" is the best wedding anniversary gift to remind me each day how deep commitment and love are. Thank you for being part of our story and making these moments to last forever! ❤️"

Kathleen Gaitán