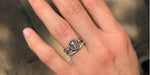 Salt and pepper diamond ring
My client and friend wanted to revamp her engagement ring, her older one was beautiful but it wasn't her style at all. She had a pretty good feeling of the direction she wanted to take with the new ring. She just needed to be presented with visual examples.
The Stone
She was thinking of coloured stones, like a Tanzanite or Sapphire, blue/green hues. I showed her many options until she got to see a salt and pepper diamond and that was it, this is the stone she wanted.
One of her requirements was for the stone to have a crisp contrast to the salt and pepper black and grey. We curated a few stones until finally she got the magic galaxy one.
The diamond is a 1.18 carat cushion/rectangular shape and it is a rose cut. Rose cut stones are an antique cut that has regained popularity in the last years. I love them because they look bigger than in reference to their carat weight.
The design
She wanted to combine vintage with a more contemporary textured bezel for the centre stone (well hello, I'm all about vintage/contemporary mix). We used a milgrain effect on the bezels of the side stones.
Milgrain is a jewellery design technique where small beads of metal are used to create borders, which creates a vintage look. For the centre stone a 1.18ct salt and pepper diamond we decided to go more modern with a chunky textured bezel.
To get to the final design we worked on a couple of proposals. And then there it was the perfect final one for her. The ring was made in white gold. The centre stone is accented with white diamonds on the side to make it stand out. The side diamonds are brilliant cut and marquise shape (love this style).
Salt and pepper diamonds
It is said ... Diamonds are a girl's best friend … well not all diamonds I say.
Personally white diamonds come at the bottom of my list. Don't get me wrong, I wouldn't reject them or look down on them, I actually think they are beautiful and amazing but I just can't resist coloured stones, or stones with interesting mineral inclusions. I have noticed that many of my clients feel the same. I think this is one of the reasons salt and pepper diamonds are so popular at the moment.
But what exactly are Salt and Pepper diamonds?
Salt and pepper diamonds are formed exactly the same way white diamonds are - but with an added natural phenomenon. While they have exactly the same hardness and durability as white diamonds, they differ aesthetically due to the high concentration of inclusions, as well as the trace elements that get stuck in these fractures during the formation process.
The inclusions in salt and pepper diamonds were created by extreme heat and pressure in the Earth's crust, millions of years ago.
Contrary to misguided belief, a salt and pepper diamond is as much a diamond as any traditional white diamond. Salt and pepper diamonds, however, are heavily included and often contain many different colours, hues and tones. The 4 C's, therefore, do not apply to them.
At Danimose we recommend Salt and Pepper diamonds because:
We can source them here in South Africa
Our supplier (woman

 

owned

 

business) only

 

sells

 

ethical diamonds part of the 'Kimberly Process'
Mining for Salt and Pepper is less harmful to the earth than traditional diamonds.
They are super interesting to work with on unusual and beautiful designs
What does it look like to get a custom ring for yourself anyway?
Imagine having something made for you taking into consideration
Being expose to new gemstones that you have never

 

imagined

 

existed.
Having a couple of design proposals taking

 

into

 

consideration

 

an

 

in-depth look

 

at your

 

aesthetics, things you love, things you

 

would

 

like to explore.
Having a professional designer advising you all the way to get the perfect piece for you.
Custom fine jewellery pieces are not necessary the kind of jewellery you buy without thinking twice about it. It is a decision after lots of thought.
This is the reason it is so important for us to provide you with as much information as possible in order for you to make an informed decision regarding your precious piece. When it comes to jewellery as in many other things in life knowledge is power!
We have all walked outside a luxurious jewellery store and contemplated the designs through the window. They are beautiful although in many cases generic.
Having a custom ring means there will never be another like yours. It has a story. A meaning in your life. Something you would like to be reminded of, a time and place. And in many cases a person.
The custom pieces often come full of symbolism. The engraving, the reclaimed stone or perhaps the birthstone of a loved one. Your aesthetic, your taste for clean lines or perhaps a more organic type of design. The options are endless. 
Not only that, the fact that the piece has been made with precious materials means you will be able to pass it on to a future generation. You will not only be bequeathing a ring but they will be inheriting a story to be told and remember many times to come.
To order ta similar style ring click here
If you are interested on inquiring about a custom made piece don't hesitate to get in touch at contact@danimose.com