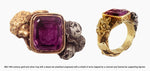 Amethyst is a variety of quartz which occurs in many colours from light lavender to deep purple. The colour is caused by irradiation, impurities of iron and in some cases other transition metals.
The Romans and Greeks thought amethyst to be a strong antidote against drunkenness and wine goblets were carved from it.
The Chinese have used amethyst ground down so that people could consume it to help with mental issues and pain. Not recommended these days!
It has also been thought of as a symbol of calm and serenity. Leonardo da Vinci once claimed that amethyst would quicken intelligence and rid the wearer of evil thoughts.
Roman women loved jewellery. They wore necklaces of varying lengths as well as rings, earrings, pins and bracelets. Amethysts were fashionable and added colour to the jewellery.
This necklace was made in Europe during the Roman Empire about 100-200. It is in the collection of the Victoria and Albert Museum in London. It has lyre-shaped gold links alternating with amethyst beads.
In the nineteenth century amethysts were sometimes carved to form cameos.
This ring was made in London between 1800 and 1869 and has a cameo of a panther on an amethyst. It is part of a collection bequeathed to the Victoria and Albert museum in London by the Reverend Chauncy Hare Townshend, a cleric and poet.
Some of our Custom Made Amethyst Projects at Danimose 
Siblings necklace
Kingfisher Emerald cut amethyst bracelet in rose gold
 Cushion cut Amethyst pendant