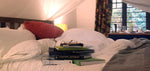 Designing for you or for me?
What matters is to be a hundred per cent proud of the result of whatever we design and produce, regardless of whether it gets sold or not. We need to design thinking about what we want and this will eventually resonate with somebody else's style even though many people may not like it.
This is what my friend John Paul told me over a conversation about art, jewellery, design.
In the weeks after that conversation, I kept recalling the concept of creating and designing pieces just because I love them and not necessarily thinking about the commercial part of the job, selling.
To design what I want, to create regardless of whether it gets sold or not… This sounded so liberating, and intangible?
Maybe I thought, the question I need to ask myself is, can I do it all? my commercial work, bespoke pieces for the clients and whatever I as a designer want to create? 
As I kept thinking about it, I eventually decided not to rush to find answers. Instead, I got curious about the jewellery history and its legends. I invested in a few good jewellery books, and decided that as part of my professional development, every month I should get one more.
During the past three months in my daily work at the bench I listened to audiobooks like 'The Cartiers: The Untold Story of the Family Behind the Jewellery Empire', at night read books like 'Stoned: Jewellery, Obsession, and How Desire Shapes the World', 'Jewellery the body transformed', 'Vogue the jewellery' and more.
I just wanted to understand the different driven purposes of creating jewellery in history.
For that period of time, I started to forget about creating and what to create or not and I just relaxed.
I must admit that just taking in all that information was refreshing and very stimulating. It made me feel ready to design just because it felt right.
Finally last weekend I was able to go away on my own. I went to the outskirts of Gauteng province, on a lovely organic farm in Muldersdrift, I had lovely food and wine, and lots of precious uninterrupted time. I got to design a few new pieces which I'm very excited about.
After this beautiful weekend away I came back with a clear mind. Two of the most important things I decided during the trip were; one, maybe I cannot do it all, nor should I, and two, to design for absolutely no other reason than experimentation, fun and love is a must for me and Danimose. 
I hope soon to share with you some of the final products of those designs.
In the meantime, I'm interested to find out how do you stay creative and still deal with the boundaries of your daily commitments in your job?
Would love to hear ideas in the comment section.
Chat soon…