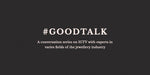 I talk, you talk, we all talk #goodtalk
On one of my morning runs I was thinking about a conversation with one of my clients. She was wondering about what gemstone options are available.
Salt & Pepper Diamonds
We briefly discussed salt & pepper diamonds and the different colours of sapphires to mention some. It made me realize the massive information gap between the jewellery industry and the consumer.
I believe the client has the right to make an informed decision before purchasing a gemstone or a piece of jewellery. You don't have to be an expert but some basic knowledge will take you a long way.
A few of the many sapphire colors. Photo: Robert Weldon/GIA, Dr. Eduard J. Gübelin Collection.
In my case as a jeweller (and I can only speak for myself), my limited knowledge about gems I have picked up almost by accident, visiting gemstone dealers, having conversations with other jewellers and reading about the subject. But gems are complicated to examine and understand if you haven't trained your eye for it. I have no doubt that I need a reputable company or dealer (hopefully a trained gemstone specialist) before purchasing the stones for my clients, especially when paying three or four figures per carat, I want to be sure that whatever I purchase is quality and that my costumers get the best for their money.
After my run that morning I immediately messaged Nandi Ferguson. She is the head of a lovely company 'Intercolour Gems' in Johannesburg, South Africa.
Every time I visit her I feel I have entered the most magical world. Seeing all the amazing gemstones that I couldn't even imagine. Different cuts and deep colours are just hypnotising and I always want to buy more.
I asked her thoughts about us having conversations as part of a series in IGTV to provide useful information to clients and even for jewellers. She was immediately keen to get involved. And this is how we launched our first #gemtalk.
Australian Opal
In that first #gemtalk we chat about what is the basic knowledge that you need to have before purchasing a gem. The 4C's grading (Carat Weight, Cut, Colour, Clarity). We speak about the accessibility of gemstones nowadays, trends in the bridal market (salt & pepper diamonds) lab-grown diamonds, opals and more.
Natural and lab-grown diamond comparison © Diamond Buzz
Hopefully this series of conversations, part of #goodtalk, will help to make the process of ordering a piece a very enjoyable experience where you can understand the options and possibilities.
I hope to have other chats with key players in the jewellery industry to learn from them the different perspectives, practices and views. In this way you will begin to understand the full story behind a jewellery piece.
Stay tuned for a new Danimose #goodtalk coming soon.
You can watch our first IGTV #gemtalk here.