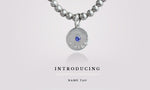 Introducing 'Name Tag Bracelet'
If you can't find the exact thing you want out there, then create it. This goes for life, work and in my case, jewellery...
Since my son was born almost three years ago I have been thinking I want a piece of jewellery to celebrate him.
The piece is in sterling silver, the stone is a Tanzanite (December birthstone)
The thing is, even though I want something to celebrate my son, I still want to wear a piece that is stylish and bold. I wanted a timeless design. 
The chain of the bracelet is one size, 19.5 cm approx. It has movement
What I end up loving more about this design is that it doesn't matter the age or gender of the loved one as it can be applied to anybody without fitting into a box such as motherhood jewellery or couples jewellery. It can be a reminder of you as a couple, kids, pets or anything else. It can be whatever you want it to be.
The charm is bold but smallish which makes it very tasteful (charm diameter: 12 mm approx.)
Hope you guys enjoy this design as much as I'm enjoying it. I haven't taken mine off since I finished it and I'm enjoying it more and more.