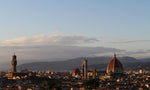 Am I ready for the next move? 
It's the beginning of 2016 and I'm seriously thinking about furthering my studies of jewellery in Florence, Italy. I had been secretly looking at options of 'academic jewellery schools' in South Africa for some time. As I think more about it, I realized that I couldn't be bothered to go back to university again for another 4-5 years at least… Been there, done that. I know that's not the right attitude to have, don't get me wrong - I'm a forever student – but sometimes I question the point of such formalities. My master's degree diploma is still getting dusty on my shelf after all these years anyway…
View from my afternoon walks, 'Ponte Vecchio' at the back
By the beginning of September 2016, I found myself on a flight from Johannesburg to Italy. Somehow, I managed to do all the necessary arrangements at my then workplace and at home to take some months off and make that idea a reality.
Outside the school 'Metallo Nobile'
Even though I couldn't speak Italian and the course is taught in that language, I was feeling so ready to embark on the adventure. I clearly remember thinking, 'I will make a plan' as the South African saying goes while sitting in that plane feeling as if I was born for this. I know, I can be corny at times…
Practicing wax carving at the studio 
For the next few months, I became a student again, learning all about the art of working with precious metals and different ancient Florentine jewellery techniques. I was 100% focused on that, often staying up to practice what I had learned till 3:00 in the morning in the flat I was staying at.
Food and more food 
I stocked up the kitchen with good bread, gnocchi, black olives, cherry tomatoes, basil, and kept a big ball of 'mozzarella di bufala'a, artichokes, and a six-pack of mini prosecco in my fridge at all times (a must-have!).
Streets in 'Firenze' 
I started to enjoy the sound of opera music playing in the background at the studio (I had never dedicated much time listening to it before) and, after class, I wandered the streets of Florence on long walks. I spent so much time admiring the city and looking through the windows of small shops where the work of restoring chandeliers is still carried out, usually by elderly craftsmen. 
On the two rare occasions, I went traveling during that time. On the left, visiting Venice and on the right travel to Rome and met with a good friend of mine.
I had a limited time there, so I decided not to travel much and to just make the most of the course. Only on two occasions I couldn't resist and went off over the weekend. 
Coffee Break 
I escaped every school break on the search for brioche, espresso, and gelato and learnt the art of 'la bella vita' as I walked over Ponte Vecchio.
Hard at work at the studio
As I look back to that experience 4 years later, I now understand that ready or not that was the perfect time for me to take that next step. Mentally, it was when I could choose what to do and where to go. I realize how in my life, things are always in a rush; I eat fast, walk fast, I try to get a million things done fast, it has always been a rush and I'm not sure why. It is in these times when I try to remember what my teacher used to tell me every 20 minutes; 'piano, piano (slowly, slowly) Daniela'. 
Now I know that sometimes it is okay to take a step back, restart and go slow. Good things take time.