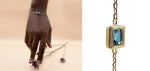 The gem of the sea - Aquamarine
Aquamarine is the birthstone for March and the official gemstone for the 19th wedding anniversary.
Aquamarine belongs to the Beryl family like Emerald and Morganite. The colour of aquamarines range from delicate green hues to cool blue. The blues are provided by ferrous iron and the presence of ferric iron turns the gem slightly green.
Custom made Protea inspired engagement with aquamarine
Historically aquamarines have been used as a symbol of youth and happiness. Western cultures connect them with the ocean and Ancient Romans believed aquamarines could protect people who are travelling across the sea.
Pliny the Elder (23 AD -79 AD), a Roman author, naturalist and natural philosopher, said of the gem, "The lovely Aquamarine, which seems to have come from some mermaid's treasure house, in the depths of the summer sea, has a charm not to be denied". 
Aquamarine engagement ring in white gold made by us
Aquamarines have excellent resistance to scratches and abrasions which makes them a good choice for daily wear jewellery.
If you are interested

in enquiring

about a custom made piece don't hesitate to get in touch at

contact@danimose.com